Hoge's Bears Things: The problem with this year's NFL free agency class and emptying the notebook from the NFL combine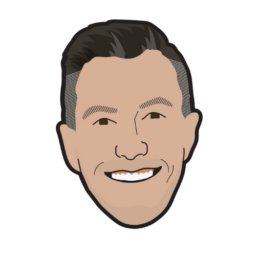 While the trade market for the No. 1 overall pick appears to be buzzing, the Bears sort of have a problem.
OK, maybe it's not a problem. But it's at least a little bit of bad luck. And that's where we start this edition of the Bears Things newsletter:
The Lead: An uninspiring free agent class
One thing became abundantly clear while in Indianapolis for the NFL Combine: The overwhelming consensus in NFL circles is that this year's free agent class is underwhelming.
That's not ideal when you have the most cap space available in the league. And a cash floor you must reach. The Bears literally need to spend money.
This will force Bears general manager Ryan Poles to get creative — and stay disciplined. Players who reach free agency simply because their contracts expire are typically not the best ones to throw a lot of money at. Teams don't let good players reach free agency unless they are forced to because of tough salary cap decisions. With that in mind, trading for a player with one year left on their contract and extending them is an option worth exploring.
Another rule to remember: Free agency is fluid. More players will be cut loose as others are signed. There will be another wave after the NFL Draft. Being patient often pays off. Remember when the Bears signed Jason Peters and Alec Ogletree during training camp in 2021? Those moves provided a ton of value.
The guess here is that Poles will make at least one big splash early next week. I wouldn't be surprised to see at least one significant trade too. But I also expect Poles to show considerable patience during the process.
Some advice: If you're frustrated that multiple starters haven't agreed to deals by this time next week, just keep in mind that going nuts on the first few days of free agency usually isn't the best way to build a championship football team.
Emptying the Combine notebook (on both free agency and the draft)
So who could be the big splash for the Bears? Keep an eye on Broncos defensive tackle Dre'Mont Jones. He just recently turned 26 and is still ascending. That's the type of player you spend big money on.

Falcons right tackle Kaleb McGary makes a lot of sense for the Bears. He's 28, is a fit for the scheme, and was with Bears offensive line coach Chris Morgan in Atlanta. He should also come cheaper than Mike McGlinchey.

If the Bears pulled off one giant trade, it should be for Bucs center Ryan Jensen. He's older (31), but damn, he'd be good for that offensive line.
Perhaps more realistically, two free agent center names to keep an eye on: Minnesota's Garrett Bradberry and Cleveland's Ethan Pocic. Bradberry is a good athlete and was much better under Kevin O'Connell last year. Pocic had a great year with the Browns in 2022 before dealing with a knee injury. He also happens to be from Lemont.

Orlando Brown Jr. and Jawann Taylor are both interesting offensive tackle options, but smarter offensive line evaluators than me have questioned the fit within Getsy's offense. In a perfect world, I'd put Brown back at right tackle and keep Braxton Jones on the left side, but are you really going to give $100-plus million to a right tackle who prefers to be playing left? Probably not.
Five players I'd have no problem with the Bears signing: Patriots wide receiver Jakobi Meyers, Saints edge rusher Marcus Davenport, Colts edge rusher Yannick Ngakoue, Colts linebacker Bobby Okereke, and Eagles linebacker T.J. Edwards.

One depth player I heard the Bears have kicked the tires on is former Northwestern defensive end Ifeadi Odenigbo, who spent most of last season with the Colts.

Coming out of the NFL Combine, my QB1 in the NFL Draft is CJ Stroud. And it's not really close.
When it comes to Anthony Richardson, keep an eye on the Raiders. I don't think he gets past Vegas, and they might have to trade up to get him.

The consensus leaving Indianapolis is that the Packers are done with Aaron Rodgers. There hasn't been much communication (if any) between the two sides since the season ended. As I write this, Rodgers is reportedly meeting with the Jets in California. The Nathaniel Hackett connection is strong there, but Rodgers is also said to hold Jets head coach Robert Saleh in high regard too.
Make sure you are following all of our NFL free agency coverage on our CHGO YouTube channel and by following @CHGO_Bears on Twitter. CHGO Diehards get access to our in-house free agency and NFL Draft databases, which are constantly getting updated with more information!
Get Chicago's Best Sports Content In Your Inbox!
Become a smarter Chicago sports fan with the latest game recaps, analysis and exclusive content from CHGO's writers and podcasters!
Just drop your email below!