Multiple times during the last conversation Seiya Suzuki had with the media before the end of the Cubs' season, he called back to the error he made in Atlanta on Sept. 26.
You'll remember Suzuki missing what seemed like a routine fly ball, leading to the Braves scoring two runs to take an eighth-inning lead. When the Cubs badly needed a win, the error was ultimately the nail in the coffin for that game. And instead of gaining momentum in their playoff push, the error became one of the lasting memories of the Cubs' September collapse.
"Looking back, that error in Atlanta, I think that was pretty huge," Suzuki said through interpreter Toy Matsushita during the last series of the season in Milwaukeee. "That's obviously something that I'm going to reflect on during the offseason and make sure that I won't do the same thing next year."
The fact is, though, that Suzuki didn't lose that game on his own.
After building a 6-0 lead — with Suzuki driving in two of those runs in his 2-for-5 night — the offense couldn't tack on any more over the last three innings. The pitchers couldn't keep down an Atlanta offense it had on the ropes for the first half of the game, and even if Suzuki catches the ball, with the way the bullpen had struggled leading up to that game, there's no guarantee they keep them off the board in the bottom of the ninth.
Nobody on the team blamed him at the time or at any point after, and they continued to try and keep him from dwelling on it.
"I think that part of why I know we have a good group is, I was there in Atlanta, I watched all the players one by one going up to him and trying to pump him up," Cubs president of baseball operations Jed Hoyer said at his end-of-season presser last month. "Certainly, it was a moment he'll regret and he'll think about a lot, but my hope is that he puts it in the rear view."
There's also the fact that, without Suzuki's contributions over the last couple months of the season, the Cubs may not have even been in that spot in the first place.
Suzuki's last 2 months of 2023
It's not hyperbolic to say that once the calendar flipped to August, Suzuki was one of MLB's best offensive performers. From Aug. 1 on, he hit .349 with a 1.072 OPs and a 183 wRC+. Each of those numbers was good enough to rank third among all qualified major league hitters during that stretch.
Also, remember that he was in a deep funk heading into the start of that month. In 46 games between June and July, Suzuki hit .212 with a .578 OPS and a 59 wRC+. He looked lost at the plate. It seemed like he was constantly guessing, and his confidence appeared to be as low as maybe it's ever been since he joined the Cubs.
Manager David Ross limited his playing time through the first eight days of August, giving him two starts against only lefties and then having him sit for all but two innings in four games from Aug. 5-8. When Ross revealed he would keep Suzuki out of the starting lineup for a period of time, he never said it was anything long term. The goal was to give him time for a reset. After that, the Cubs hoped, he'd be able to snap out of the funk.
"I think [Suzuki's] season, in some ways, it kind of mirrored a lot of our season," Hoyer said. "He was hurt early in the season. He played OK. Didn't really play to his potential, I would say, until July, and then he had a horrible stretch where he looked completely lost. To Rossy's credit, he was sort of like, 'Hey, let's sit for a bit, let's take some time off, let's kind of clear your head,' which is hard to do in the middle of the season.
"From that point forward, he was one of the best hitters in baseball."
Yeah, no kidding.
Starting from Aug. 9 through the end of the year, Suzuki hit .356 with a 1.086 OPS and a 187 wRC+. All three ranked No. 2 in MLB in that time (his average fell behind only Mookie Betts', the other two ranked just back of Marcell Ozuna's).
Suzuki of course deserves credit for turning his own season around, but many point to that short break as a real contributing factor. While he wasn't overly enthusiastic about having to miss games, Suzuki said he took that time to really focus on the mental aspect of the game — "I changed my approach, how I thought at the plate" — versus changing his mechanics.
He didn't want to let the time off go to waste, so he bought into working on things behind the scenes. And the numbers show how much that paid off.
"To be honest with you, I didn't really start off very well at the start of the season," Suzuki said. "But in the second half, I was able to turn it around. That was something that I couldn't do last year, staying consistent. I've been pretty consistent for the last two months, and I feel like I'm really, really confident now. I feel like it's going to be a huge stepping stone for me heading into my third year."
Can Suzuki carry it over to 2024?
To go from slumping to one of the best hitters in baseball that quickly was a revelation for Suzuki and the Cubs. He got back to having fun playing baseball — and who can't when you're playing that well?
But now, the question is if he can do it again over something much closer to a full season. Can he continue to be that guy going into next year, when the Cubs are hoping to take another step toward being legitimate contenders?
That's what the Cubs are counting on. They paid nearly $100 million to bring Suzuki to Chicago from Japan before the 2022 season. But two years into a five-year deal, he hasn't consistently been the hitter they hoped he'd be. Going back to his first big league season, he's had enough rough patches that, before his extended hot streak to end 2023, some were already calling the signing a bust.
The discussion surrounding him has shifted away from that now, at least. His two-month production was a strong example of the type of hitter the Cubs believe they have in the 29-year-old.
"I thought everyone saw what he can be," Hoyer said. "You look at the end of the season, you look at his numbers, the guy had close to an .850 OPS. Probably ended up a top 20-25 hitter overall in baseball. So, I think from an offensive standpoint, hopefully all Cubs fans realize, like, I think he looked like a true middle-of-the-order bat at the end of the year."
Suzuki never expected the transition to the major leagues to be easy, but his experience two years into his MLB career might've been even harder than he imagined. Still, after finishing 2023 on a major high-note, he's confident that he's figured some more things out heading into a potentially pivotal third season in the majors.
"I knew [the transition] wasn't going to be easy," Suzuki said. "It's not going to get any easier. But obviously, this year, I feel like I was able to be really, really confident in what I'm doing. That's going to motivate me to work even harder next year. I'm just going to keep on working and make sure I get to overcome all these walls that are going to come in my way."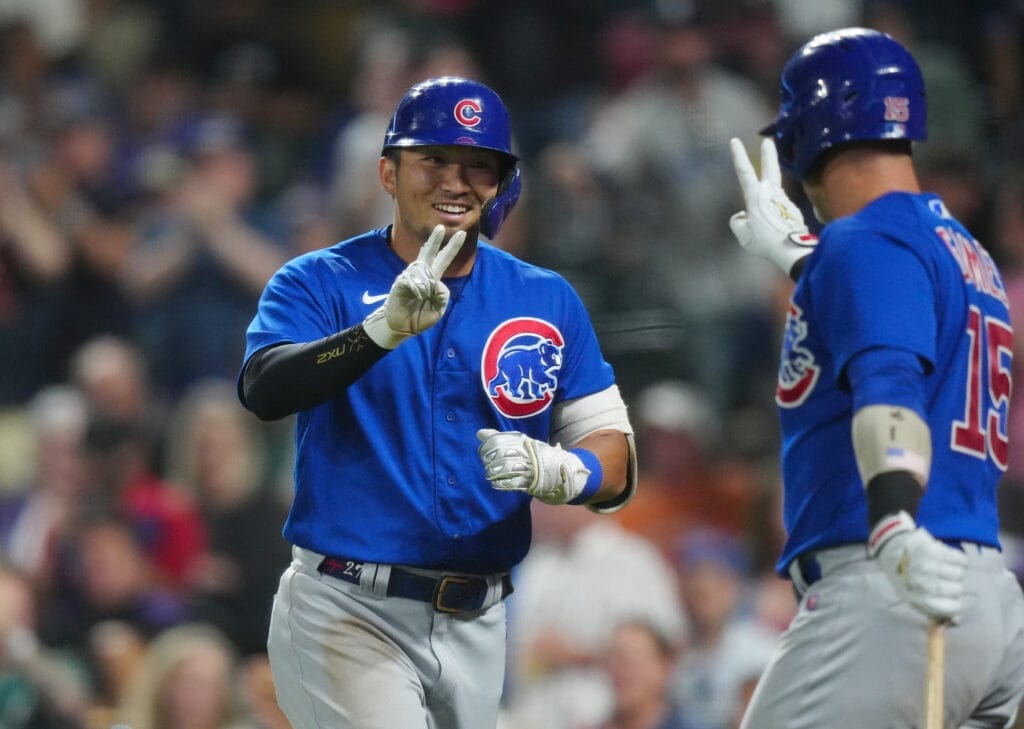 Get Chicago's Best Sports Content In Your Inbox!
Become a smarter Chicago sports fan with the latest game recaps, analysis and exclusive content from CHGO's writers and podcasters!
Just drop your email below!