Blackhawks Rebuild Report: Ethan Del Mastro, Kevin Korchinski, Nolan Allan, and Colton Dach win Gold with Canada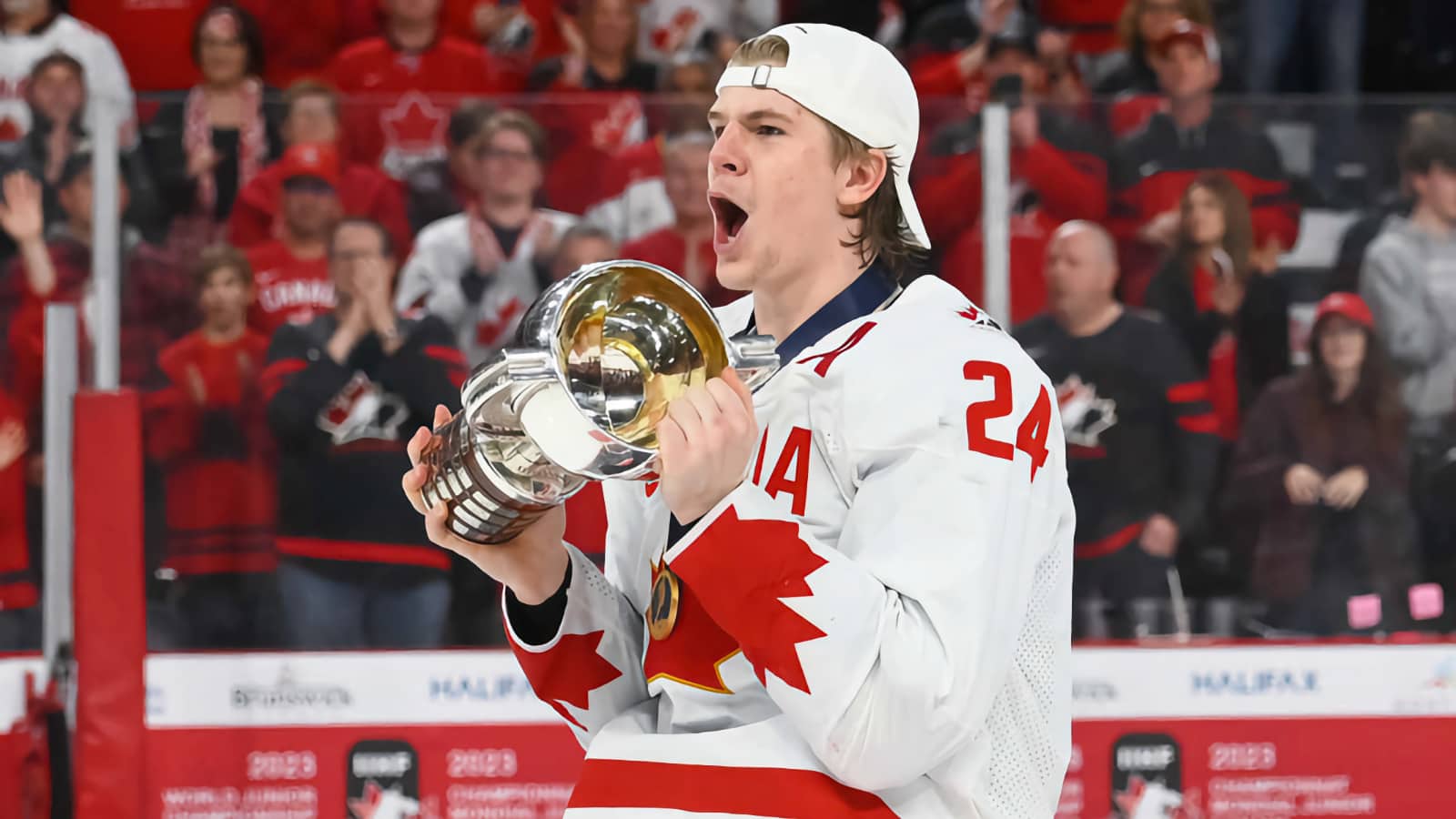 The IIHF Men's World Junior Championships are over. The five Blackhawks prospects in the tournament all came away with a collectively good showing and should definitely give Blackhawks fans a lot to be excited about for the current and future prospect pool. While that is wrapping up, the Blackhawks will be getting another look at top Rockford IceHogs players Brett Seney and Lukas Reichel, as they are the first two players recalled in the 2023 calendar year.
Mario's Notebook: Golden Goal
As the IIHF Men's World Junior Championships pressed on throughout the past two weeks, one thing became evermore clear: Connor Bedard is THAT DUDE. Leading Canada to back-to-back Gold Medals for the first time at the tournament since 2008-2009, Bedard was the story of the tournament and made Blackhawks fans salivate even more over the possibility that he could soon be a member of the organization.
But it wasn't as smooth sailing for Canada on their way to the Gold Medal. It took coming back from a 2-0 deficit against the U.S. in the Semifinal and overcoming a late charge by Czechia in the Final for Canada to successfully defend their Gold. Just like this past summer, it required overtime.
It would be Arizona Coyotes prospect Dylan Guenther netting the Golden Goal for Canada to give them their 20th Gold Medal in the tournament's history.
While Bedard wasn't a factor on the game-winning goal, nor did he record a point in the Gold Medal Game, he was the man of the tournament without question.
And doing all of this as a 17-year-old in their draft year is extra special and rare.
When we talk about hockey culture taking individuality out of a player, we talk about it in the sense that a player's personality is scrubbed away. But when Bedard was asked about his individual (MVP) performance after Canada won Gold, he immediately made the moment about his team and not about himself.
There should be plenty of time in his hockey career for Bedard to show his personality as the culture around hockey loosens the tie. Still, the level of maturity to make that moment about his team is exceptionally impressive for a player in that spotlight and at that age.
We didn't get to talk about it in a Rebuild Report, but Bedard did play the overtime hero for Canada at this tournament when they needed the extra frame to get past Slovakia in the quarterfinal…
Maybe future teammate Patrick Kane can give Bedard some pointers on hitting the "Heartbreaker" celebration a little better next time.
With Canada winning, four Blackhawks prospects earn themselves a Gold Medal at the tournament, with Kevin Korchinski, Colton Dach, and Nolan Allan getting their first World Junior Championships Gold and Ethan Del Mastro earning his second. He hit the "Griddy" postgame…
Far be it from me to be giving anyone dancing critiques.
On the ice, Del Mastro had far fewer critiques. He was consistently deployed in a top-pairing role for Canada throughout the entire tournament and was one of their most reliable players defensively. He finished with three assists and a +3 rating, playing 24:00 minutes in the Gold Medal Game, including 9:55 minutes in the third period alone.
With the tournament over, most of these Canadian players will be returned to their respective junior clubs with a few exceptions. But for Del Mastro, his return to Mississauga may be short-lived.
The OHL Trade Deadline is Tuesday.
While Del Mastro was the most impressive of the Blackhawks' prospects at the tournament, fellow defenseman Korchinski may have been the most disappointing. But I'm sure he doesn't care about that since he's got that Gold Medal around his neck…
Korchinski finished the tournament with a goal and three assists, recording the most points of the Blackhawks' prospects, but was a near non-factor in the Semifinal and final for Canada. He played just 4:48 in the Semifinal against the United States and just 5:08 in the Gold Medal game against Czechia. There were a lot of expectations for success for Korchinski at this tournament from Blackhawks fans and prospect analysts alike, but his sheltered performance left a lot to be desired.
Look, this tournament is notorious for being a 19-year-old showcase, with few exceptions. Even though this is technically Korchinski's draft year+ appearance at the tournament, he's still just 18 and will have another shot to play in the World Junior Championships next winter. By all accounts and estimations, he will be back with Canada and will be playing an even bigger role next time around. I wouldn't hold this performance over him too much, and it certainly doesn't discredit his future outlook in his NHL career.
Here's the Blackhawks' 2022 seventh-overall pick's lone goal of the tournament…
Snipe show.
While he didn't receive much glory in the tournament, Blackhawks 2021 first-round pick Nolan Allan was a consistently reliable defenseman for Team Canada. Notching a goal and an assist in the tournament, Allan was solid in his own end and showed the physicality to his game that makes Blackhawks fans excited about his NHL future and the role he could play on the blue line.
That's impressive, even for a Canadian team that allowed the third-fewest goals (15) at the tournament.
While the Blackhawks' defensemen were the biggest focal point for most Blackhawks fans, forward prospect Colton Dach was also a factor for Team Canada in a fourth-line role. His inclusion on the roster was a bit surprising over players like fellow Blackhawks prospect Ryan Greene, given his performance in Canada's pre-tournament camp, and Owen Beck (who eventually replaced Dach on the roster).
Dach was having a solid tournament until the final group stage game against Sweden, where the 2021 second-round pick sustained a shoulder injury that ended his World Juniors campaign.
The plan is for Dach to come to Chicago to be evaluated by the Blackhawks' medical staff and to see what the next steps will be for his treatment and rehab and take things from there. A really rough season for Dach in 2022-23 after he sustained a concussion over the summer at the Tom Kurvers Prospect Showcase, then another concussion while with the Kelowna Rockets, and now this shoulder injury. Dach led Kelowna with 79 points last season and was scoring at over a point-per-game pace this season with 17 points in 14 WHL games.
For more on all of these Blackhawks prospects, and 100 more, take a dive into friend of the program Scott Wheeler's World Junior Championship notebook at The Athletic…
Here are a few parting thoughts about the World Junior Championships when it comes to Blackhawks considerations:
Connor Bedard IS. THAT. DUDE.
He will be a Chicago Blackhawk.
While Adam Fantilli was out-shone by Bedard, he was far from a dud at the tournament. Fantilli finished with two goals and three assists, including a huge goal in the Semifinal against the U.S. that ended up being the game-winner for the Canadians. Suppose it is not in the cards, or rather ping pong balls, that Bedard is not a Blackhawk and they end up selecting Fantilli. In that case, this tournament should not be a deterrent, and adding him to the organization still dramatically changes the direction of the franchise.
I keep pumping the tires of U.S. prospect and Wisconsin Badger Charlie Stramel, and I will continue doing so after this tournament. Stramel played a fourth-line role with Team USA at the tournament and came away with a Bronze Medal after the U.S. outlasted Sweden in overtime of the third-place game with an 8-7 win. Stramel finished with three assists, and while I think my Badger Bias™️ gets in the way of watching him play, he did everything Team USA needed him to do as a heavy fourth-liner, and that was encouraging to see. His offensive production this season has been stunted by being on a terrible Wisconsin team in the NCAA, but that might lend itself to the Blackhawks using that later first-round draft pick(s) to "steal" Stramel in the draft.
Regarding the potential for the Blackhawks to trade Patrick Kane, one team continues to come up and will continue to do so until the deal is done: The New York Rangers. When that chatter gets loud, it tends to include Alexis Lafrenière and/or Kaapo Kakko. I don't care about either of those guys. I want Brennan Othmann.
Greg's Notebook: Victor Stjerborg's WJC ends in disappointment, Rockford IceHogs sweep the week
Victor Stjernborg and Team Sweden looked to be on their way to the Gold Medal Game at the World Junior Championships, but instead, they are making the long trip home without any medals. Sweden wrapped up their preliminary round with a 3-2 overtime win over Czechia and a 5-1 loss to Canada. Stjernborg did not have a point in these two contests and was a minus-3 while playing 14 minutes a night.
Stjernborg had his moment of glory in Sweden's Quarterfinal win over Finland. The Swedes were down 2-1 late in regulation to their rival before top 2023 draft prospect Leo Carlsson tied the game with three minutes left to play. However, shortly after the Carlsson goal, Boston Bruins prospect Fabien Lysell took a high-sticking penalty. Moments later, Stjernborg scored a shorthanded goal to send Sweden to the Semifinals.
Sweden was 39 seconds away from advancing to the Gold Medal Game in the semifinals when David Jiříček tied the game for Czechia. Jiříček was selected sixth overall by the Columbus Blue Jackets last summer with the second of two first-round picks they received from the Blackhawks in the Seth Jones trade. Sweden lost 8-7 to the United States in a wild back-and-forth Bronze Medal Game. Stjernborg didn't have any points in the game but finished as a plus-1 and played a tournament-high 18:16. He finished the World Juniors with a goal, an assist, seven shots on goals, and a plus-1 rating.
Carlsson, who will be an attractive option if the Blackhawks don't get one of the top two picks at the draft, finished his tournament strong. He only had two assists in the preliminary round, both coming in the opening 11-0 win over Austria, but he came up big in the elimination round. He scored his first two goals of the tournament in the win over Finland and had another goal and assist against the United States. He finished with three goals, six points, 20 shots on goal, and a plus-4 rating in seven games.
The Rockford IceHogs needed to make a roster move before closing out the calendar year. On Thursday, they recalled goaltender Mitchell Weeks from the ECHL's Indy Fuel. This transaction was a precursor to Arvid Söderblom being placed on injured reserve with a groin injury he suffered last Wednesday. He is expected to return to action in 2-3 weeks.
The IceHogs said goodbye to 2022 with a home-and-home series against the Chicago Wolves starting in Rosemont on Friday night. The defending Calder Cup champs took a 2-0 lead into the first intermission with goals from Josh Melnick and William Lagesson just over a minute apart. Buddy Robinson got Rockford on the board early in the second period, but he was answered by Malte Stromewell about four minutes later. Robinson led the third-period comeback with his second goal of the night off a deflection from an Alec Regula shot. Dylan Sikura tied the game with five minutes to play. The game needed a shootout after a scoreless overtime session. The IceHogs needed six rounds to earn the extra point, with Michael Teply, Cole Guttman, and Luke Philp all scoring. Netminder Jaxson Stauber made 17 saves for the win.
The two intrastate rivals headed west to the BMO Center for a New Year's Eve matchup, but no extra time was needed as the IceHogs rolled to a 6-2 victory. For the second-straight night, the Wolves opened the scoring as Stromwall scored in the final seconds of the first period. Rockford exploded for four goals in the middle frame. Defenseman Cooper Zech started the onslaught with his first goal of the season. The blueliner's goal was followed by tallies from Filip Roos, Brett Seney, and Guttman. Regula added his third point of the night with a goal early in the third period. Robinson capped off his big weekend with a late strike before Stromwall finished the scoring with a minute to go. Weeks picked up the win in his return to the IceHogs by stopping 19 of 21 shots.
The IceHogs capped off their 6-point week by beating the first-place Texas Stars in overtime. Philp opened the scoring with an early power-play goal against the AHL's top penalty-killing team. The Stars answered with goals from Thomas Harley and Curtis McKenzie early in the second period. Their lead was short-lived after D.J. Busdecker tied the game with a wrist shot from the blue line 64 seconds later. Gust gave the IceHogs a 3-2 lead early in the final stanza with their second power-play goal of the night before McKenzie struck again midway through the frame. Reichel won the game just over a minute into overtime with his 14th goal of the season. Stauber made 33 saves to earn the win.
Regula had himself the most offensively productive week of the season. He had a goal and six points in the three victories. His four goals are the most among all Rockford blueliners. Regula has 15 points, two behind Isaak Phillips, Adam Clendening, and Jakub Galvas, who are tied with 17 points for the team lead among defensemen.
On Wednesday, Reichel and Seney were recalled by the Blackhawks after they placed MacKenzie Entwistle and Jujhar Khaira on injured reserve. Patrick Kane is a "maybe" as he deals with a minor leg injury, and Andreas Anthasiou is a question mark with the illness bug around the locker room. Blackhawks head coach Luke Richardson confirmed that Reichel and Seney would play against the Arizona Coyotes on Friday night regardless of who is or isn't available.
The IceHogs have won four games in a row and five out of their last six. They have scored at least four goals in each game of the winning streak. They currently sit in second place in the AHL's Central Division with 41 points, three behind the Stars. They will travel to the Iowa Wild for a pair of games on Saturday and Sunday.
Heading to Finland, Antti Saarela scored for Lukko in their 5-2 loss to Tappara on Thursday. The Blackhawks' 2019 fourth-round pick missed a month of the season with a leg injury, but he has been heating up of late. In his last 10 Liiga games, Saarela has three goals and eight points.
Get Chicago's Best Sports Content In Your Inbox!
Become a smarter Chicago sports fan with the latest game recaps, analysis and exclusive content from CHGO's writers and podcasters!
Just drop your email below!